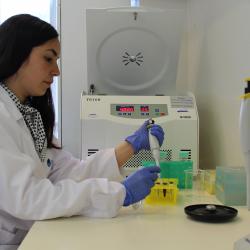 The Nanosafety Research Group is part of Cedenna's Nanosafety Unit. It is oriented to studies  and analysis of  the effects of nanoscale materials in people, animals and the environment.  The group carries out interdisciplinary work with other research groups of the Center and responds to Cedenna's vision of leading the area of Nanoscience and Nanotechnology in the country and thus promoting confidence in the technology made up in Chile.
The development of nanoscience-based technologies makes it necessary to provide for regulations in order to standardize aspects that benefit safe exports of materials and products. Starting in 2019, the Ministry of Foreign Affairs has nominated members of Cedenna's Nanosafety Unit as delegates to represent Chile at meetings of the Working Party on Manufactured Nanomaterials (WPMN or Working Party on Manufactured Nanomaterials). At these meetings, OECD member countries send representatives from different specialties (scientists, inventors, economists, political agents, etc.) to discuss the best way to regulate everything related to manufactured nanomaterials. At WPMN meetings, there are ongoing discussions on manufactured nanomaterials to establish the methods recommended by the OECD for the analysis and characterization of nanomaterials, appropriate occupational exposure limits, environmental quality standards, labeling of consumer products containing nanomaterials, and other related issues.
What is decided in the framework of these meetings is relevant for Chile since, as a member country, any type of regulation arising from these working groups will be immediately available to be adopted by the legislation in force.
Group leader: Mauricio Escudey