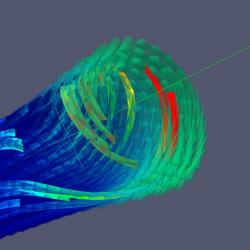 The objective of this research group of specialists in nanoscience physics is to understand and develop fundamental knowledge aboutmagnetic nanostructures and to produce new applications.
Among the applied projects are the following:
In packaging technology, the fabrication of Nanocomposite films based on polylactic acid with silica nanoparticles and silica nanoparticles functionalized on the surface with lactic acid.

Sensors based on magnetic nanoparticles and biological nanoparticles functionalized with encapsulated magnetic nanoparticles of iron oxide (Fe3O4) are useful for hyperthermia treatments, because of their super paramagnetic properties.
Among the fundamental science topics that this group studies, we may mention the followings:
Thermodynamics of small magnetic nanoparticles.

Work and efficiency of quantum magnetic cycles.

Entropy diagrams as a function of temperature and magnetic field, and magnetic thermal engines at the nanoscale.

Magnetic reversion of nanosystems taking control of the geometry.

Magnetism in curved systems.

Description of the impact of curvature induced effects, both local and non-local interactions, statics and dynamics of magnetic textures in thin extended curved layers and chiral symmetry breaking effect.
This group also works in collaboration with groups from other disciplines within the Cedenna Center, some of those projects as, for example, the Study of magnonic excitations in the single-layer chromium triiodide ferromagnet (CrI3) in different 2D materials such as MoTe2, HfS2 and WSe2.
Group leader: Patricio Vargas