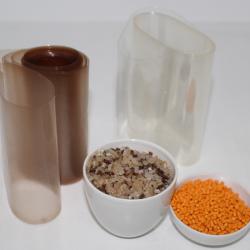 The Packaging Technology research line develops new packaging materials with improved physical-mechanical and barrier properties in order to guarantee the quality of the packaged products and, specifically in the case of food packaging, extend the useful life while maintaining the quality of the products. foods.
To achieve this objective, containers with antimicrobial and antioxidant properties, with ethylene absorption capacity, are developed, using nanotechnology as a tool for incorporating functionality into the packaging materials developed. The packaging research line, with an eminently practical vocation, also analyzes the behavior of packaged foods in the new structures developed. In this area, plastic materials with antifungal capacity (with the incorporation of natural or synthetic agents) have been developed for packaging salmon, bakery products and meat products, as well as berries. These technologies are available to the national industry for incorporation into production processes.
Another of the main lines of work in the packaging area is focused on improving the mechanical and barrier properties of biodegradable/compostable plastic materials, without losing their biodegradability properties, incorporating nanostructures that do not affect biodegradability, disintegration and ecotoxicity. of the materials. In this field, it should be noted that three laboratories have been set up (biodegradability, compostability and eco-toxicity laboratory) which, in accordance with international standards, make it possible to determine these properties in the different packaging materials.
The new requirements of the extended product responsibility law, which requires the recovery of packaging waste that each industry puts on the market, has led the packaging area to open a new line of work where it is working with post-recycled plastic materials. consumption. For these materials, the maximum percentages of post-consumer recycled plastic that can be incorporated for the development of new containers, and the incorporation of nanostructures to guarantee the mechanical properties required to adjust to the production processes, are being determined. At the same time and in order to guarantee the safety
Chemistry of the new packaging, functional barriers are being developed that limit the migration of components from the packaging to the packaged food. The laboratory has made available to the industry the "challenger test" tests that allow to guarantee the innocuousness chemistry and ensure the use of post-consumer recycled plastic material for direct contact with food.